At the SxSW 2016 Festival, everything was branded. Brand activations were everywhere the light touched, and yes, even in that shadowy place over there.
Companies took over street corners, restaurants, ballrooms, parking lots, nightclubs, and vacant lots. Streets were sectioned off with tents or even shipping container. And you might have seen a motorcycle with a St. Barnard in the passenger car, driving around with a charging bus.
Below are the brand activations that we felt had purpose, beyond just their "cool" or "selfie-invoking" factors.
Kodak Memory Observatory
Kodak used SxSW to launch their new Moments App which provides users with 3 main features: browsing through photo memories from friends, creating your own memories using a photo, block quotes and elegant presentation, and purchasing photo prints from online or local retailers.
In conjunction with the app launch, Kodak presented an artsy activation called the Memory Observatory.
Participants walked in one side of the structure to share a memory of a photo via an interview. Participants walked in the other side to a mirrored pyramid and sat or rested on the floor looking up as a photo danced around the mirrors and audio from the memory was played. Scent was also used to help convey the memory.
We opted to experience a memory, rather than wait in the 35 minute line in order to share one. The mirrored room was cozy, complete with a pillow on the floor for proper snuggling. A collage of images that our tent-mates had shared via instagram while waiting in line danced around us on the walls. And then a cute little bulldog appeared in the center.
The dog owner shared her story of how she had adopted him and how he had changed her life. It was a very intimate experience with the power to invoke a deep emotional connection. One participant recounted experiencing a woman share her love for her grandmother, stating not a dry eye left the booth!
When technology finds a way to stimulate such emotional, real responses, you know it's onto something special.
Gatorade Fuel Lab
Custom Drinks were a theme at SxSW this year. Gatorade, IBM Watson and SAP all had activations where a drink was customized for participants using technology and a little fun.
Gatorade's Fuel Lab invited participants into the world of Gatorade with a short VR experience followed by a video with bluetooth headphones. Next attendees created personalized bottle caps via a touch screen and selected which Gatorade formula met their workout goals. Gatorade has new formulas that are personalized based on how much an athlete sweats, and the salt content of their sweat.
The final step in the Fuel Lab experience was a screen displaying a "future locker room" with data collected from athletes about their hydration status and offered nutrition recommendations. Gatorade's new smart bottle analyzes sweat content, lights up when an athlete needs to hydrate, and sends hydration info to a coach's tablet for further analysis. Very cool, and very functional.
IBM Cognitive Studio
At the IBM Cognitive Studio, registered attendees answered a few lifestyle questions and received an RFID bracelet. Inside the studio bartenders scanned the bracelet and a Watson powered app displayed a personalized cocktail based on the answers and the array of ingredients. We like high-powered personalization, and we like drinks! This one was fun.
SAP's Margarita Party
More drinks! SAP threw a margarita party where brand ambassadors dressed in lab coats and walked around asking party goers questions and inputing into iPads. The data collected was reflected on a large screen and showed recommended margaritas for each person as well as what was trending at that moment.
Attendees could also vote on the best margarita created in the "lab". Unfortunately, the VR component of the activation was cancelled due to the sun being too bright that evening. Next time!
Mazda Transport
Everyone at SxSW needed to get from one place to another. This was the perfect opportunity for SxSW automative sponsor, Mazda, to step up and provide rides.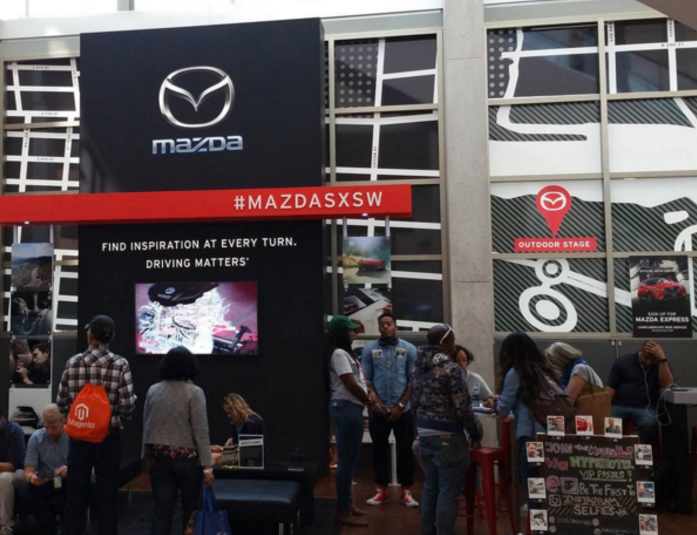 Right inside the convention center, Mazda's activation could not be missed. Registered attendees signed up via iPad and received a QR code bracelet to wear for the duration of the festival. This bracelet granted attendees access to free rides in Mazdas!
Also, in the Mazda booth, visitors could tweet selfies to receive phone chargers and phone/GPS mounts for their cars. The photos could then be embellished and printed, much like a vintage polaroid. An interactive sound table by Reactable was a hot attraction, as well as touch screens with info about the new Mazdas.
Bud Light Uncharted Studio
One of our favorite activations was the Bud Light Uncharted Studio sound wall and bottle organ. Unfortunately the positioning of their booth with a giant column blocking the view prevented many people from finding and interacting with the tech toys. But once there, visitors used headphones to hear a song and then touched the mural on the wall in different spots to mix up the song.
The idea was that 15 people would interact with the wall at the same time, creating unique versions of the song. But after many pass bys, we never saw more than 2 people playing at once.
In the front of the column, with slightly better placement, was the air bottle organ created by Peterson Strobe Tuners. Visitors went inside a mock sound booth and played the organ, or a guitar, which was connected to the air blowing mechanism via bluetooth. This was a great mix of technology and music that appealed to both sides of the SXSW attendees.
DJI Phantom 4 Lounge
The DJI Phantom 4 Lounge was less a lounge and more a fenced off area of a vacant lot with a couple of tents and a giant cage where visitors could fly the new Phantom 4 drone.
Inside one of the tents they could become a hologram and use their arms to virtually fly a hologram version of the drone and then share a short selfie video. This type of mixed reality is new to the average visitor, so the "OMG I'm in a SciFi movie" effect really took over, creating an experience that most will remember long after the fun of flying a real drone wears off.
The other tent housed a giant Instagram photo mosaic created by visitors. Hashtag a pic with #DJI, and it would instantly print on a tiny sticker that an ambassador then stuck to the wall. An algorithm inspected each photo for color and darkness and mapped it to a numbered slot on the wall. 6,240 photos were included, it was really quite impressive.
Gillette Pressure Chamber
The Gillette Pressure Chamber was part of a booth on the trade show floor designed to get people excited about deodorant of all things! Gillette partnered with Discovery VR to show pressure spikes in participants as they went on a VR journey. There were at least 2 different experiences, climbing in a deep canyon or skeleton racing.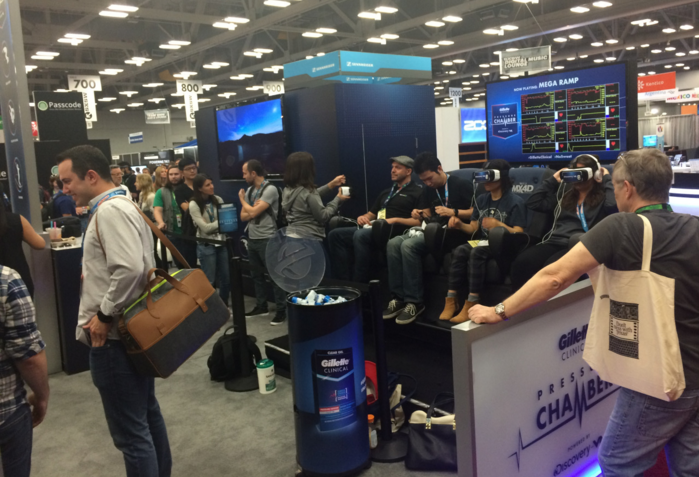 While wearing a Gear VR and seated in a motion chair, participants' heart rate was tracked and displayed on a giant screen behind the participants. The goal was to educate people that Gillette Clinical Clear Gel Antiperspirant is helping men keep their cool.
Here the technology used did seem to create a purpose for the participant by placing them into an environment, measuring their reaction to this experience, and then the tech met the physical when they were given a deodorant sample to help them deal with the results of the experience.
These examples were just a small sampling of the technologies and activations that blanketed Austin, TX and certainly, we missed some very cool ones.
The key factor in determining what made our list was, is this just cool, or is there application for this experience beyond the bubble of SxSW? In these eight cases, we believe the answer to that question to be yes.