These trends in experience design dive into the latest ideas that are changing the fundamentals of live experiences.
---
Swag-less Events
Waste no more!
Everybody loves swag…in the moment. Leaving an event with a bag full of free stuff feels good until you get back to the office and realize you're drowning in promotional items. You really didn't need another cheap pen, stiff t-shirt, or flimsy tote bag. The items are branded with corporate logos, but can you really remember who the brands are and what they do? You try to pawn off the swag on co-workers unsuccessfully, before it ultimately winds up in an overstuffed drawer – and eventually – a landfill.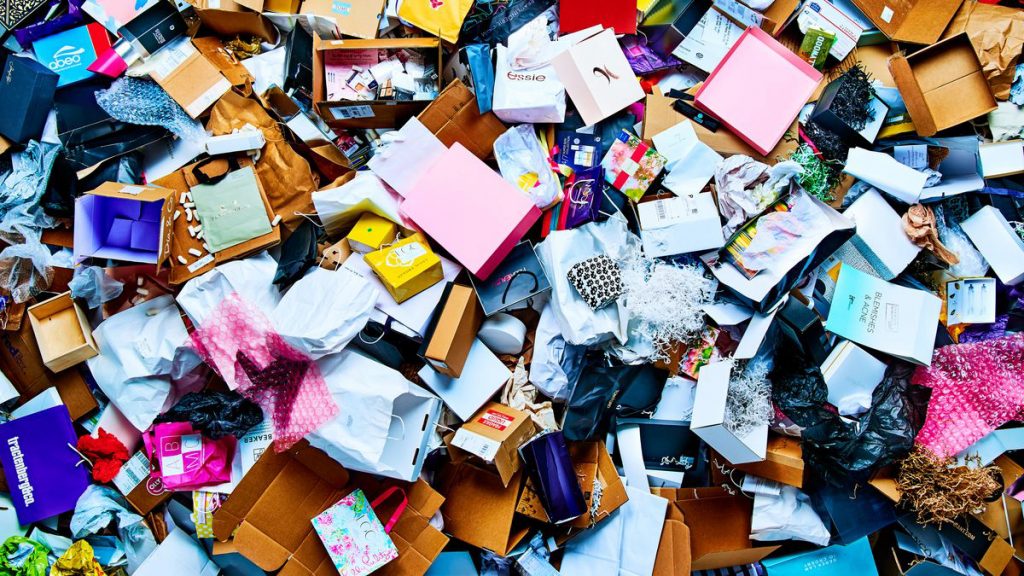 There was a time when promotional items were all the rage. Mugs, notebooks, t-shirts, and pens. Then along came the tech-related swag – USB drives, portable chargers, webcam covers, and pop sockets. As the environmental crisis escalated, the events industry went green—kinda, sorta. Reusable tote bags and water bottles, and metal straws grew in popularity.
But all this swag comes at a price. It becomes clutter with an environmental cost. Many of these products are made with toxic chemicals, produce water pollution, and fill our landfills. And the most concerning issue? The human impact. Workers at low-cost factories that make promotional products often labor under inhumane conditions with a lack of safety standards.
There's an alternative. The events industry could get rid of swag altogether. What if you offer attendees an experience? Gift a massage, manicure, or professional head shot for LinkedIn. Hire a psychic or tarot card reader. Offer an exercise class or guided meditation session. Organize a doggie decompression zone like Event Marketer's at their upcoming Experiential Marketing Summit in Chicago.
Everyone loves a yummy treat. Custom branded candy, foam lattes, and doughnuts are an easy win. What about fresh produce from a local farm? The possibilities are endless. Many organizations have already gone swag-less.
For this transformation to be successful, we need the entire industry to embrace it. Event planners, event agencies, and brand-side marketers need to fight the urge to give out promotional items and offer experiences and consumables instead. Event attendees need to decline swag and explain their reasoning. Publications and social media influencers need to spread the word.
If you design your experience effectively, the attendees who align with your brands' values won't need branded swag to remain top of mind. You'll establish a relationship that can put attendees on the path to becoming brand evangelists.
Swag is out. Experiences are in.
---
Ballroom Fatigue
Attendees respond positively to unexpected venues.
Ballroom fatigue: it's the meeting world's elephant in the room. Despite the efficiencies that a ballroom-style event offers planners, today's attendees with their thirst for new experiences want to spend their time-and money-in a venue that will excite and inspire them.
For meeting planners, it means letting go of familiar rigging points and embracing bold logistics. Meetings continue to adopt themes and strategies from consumer experiences to liven up the status quo, like moving to private homes, waterfronts, and even parking garages.
Take software brand MobileIron, which for years hosted its annual MobileIron LIVE! conference in a ballroom. To shake things up, the brand made a strategic and bold move by taking over three beautiful homes across the United States, including a townhouse in New York City, a lake-side estate in Austin and a modern Bel Air mansion.
In essence, the conference became a three-city roadshow. Keynotes took place by the pool, networking took place in the living rooms, partner exhibits activated on the rooftop deck or in the foyer, and breakouts convened in comfortable master suites.
The experience design was two-fold: encourage attendee interactions in a more intimate atmosphere and drive attendance by hosting the event in hubs of consumer activity.
And if meeting planners are leveraging traditional venues, they're doing so in a transformative manner.
Marriott International for its biannual Americas Leadership Summit transformed its Atlanta Marriott Marquis venue, the hotel atrium, conference rooms and restaurants, into a series of immersive experiences reminiscent of Refinery29's 29Rooms Instagram museums. The experience design allowed attendees to immerse themselves in the character traits of all 25 Marriott brands in order to be able to sell them better. No stodgy ballrooms there.
Dick's Sporting Goods planned an award-winning event called Dick's Outdoor University. They recognized that as a leading outdoor sporting retail company that going low-tech and taking their conference outside was the way to go. In between doses of vitamin D and educational sessions, the two-day meeting was an outdoor fantasy adventure where employees hiked, kayaked, and camped.
Unexpected venues encompass spaces that may not even count as a venue: a waterfront cruise, a parking garage (Uber and American Express did this one year), a museum, or, multiple venues. For meeting planners, it's all about breaking habits for attendees, being a little disruptive and venturing off the beaten path.
---
Selfies 2.0
Think selfies have had their moment? Think again.
Google reports that more than 24 billion selfies are uploaded over the course of the year. In 2016, Ellen DeGeneres's famous selfie shot at the Oscars broke records on Twitter with 3.3 million retweets. Reality star Kim Kardashian managed to sell upwards of 125,000 copies of her book "Selfish"-yes, a book of selfies.
While it's easy to dismiss selfies as a social media fad in pop-culture, the rise of new technologies and strategies surrounding selfies only proves this so-called phenomenon still holds plenty of value for marketers looking to engage and amplify organically.
At the Super Bowl this year, Budweiser created the "Selfie Bud" that had reverse writing on its label that read the correct way in photographs. Even B2B healthcare events can activate attendees with selfie-worthy activations like Johnson & Johnson's LightQuest product launch.
Take CES  where drones dominated the floor one year. They weren't "ordinary" drones, however. They were selfie-snapping drones creating floating, dramatic shots, even aerial "selfies"-like the Hover Camera, a "personal photographer" that snaps midair and tracks your face. Appliances have gotten in the game. Samsung unveiled a refrigerator that took selfies of its contents whenever a user closed the door, images users could then access on-the-go to see what they need to pick up from the store.
Pet parents can helicopter their fur babies, too, with a high-tech gadget called the Petbot Selfie Snapper that senses when your little guy is near the device and snaps a selfie and sends it to you.
Coachella made a festival out of FOMO, and Google knew to capitalize on it by creating a Coachella Ferris wheel. Each pod was a Pixel photo booth promoting the Pixel smartphone. Selfies taken with views of the festival grounds were the best way to tell your friends where you were.
---
Embedded VIP Events
Events within events are shifting the paradigm of b-to-b experience design.
In a competitive b-to-b event landscape, organizers need to differentiate their events and deliver value for all attendee personas. Events within events can achieve on those objectives, lifting some of the burden off organizers and, ultimately, boosting the event ROI.
LiveWorx marketed three events in one thanks to add-on events for registered attendees. The additional events include The Robotics & AI Summit, which joined forces with LiveWorx as a "second" conference within the event that offers meetups and sessions that help further expand on the industrial engineering technologies content matter of the larger show.
The Cyber Security Summit & Expo is got in the game, where attendees were be able to attend a Data Protection conference "co-located" at the summit that offers targeted content. The Association of Equipment Manufacturers (AEG) at its annual CONEXPO-CON/AGG show at the Las Vegas Convention Center created an owned event within an event outside. A massive footprint included a general stage area with a full lineup of speakers and content, exhibitor center and activations, all designed to drive home the association's purpose, and position it as an industry thought leader.
The trend is also taking shape in the form of a franchised experience.
Take C2 Montreal, known for its offbeat and trendsetting experiences, disruptive networking activities and live theater. Knowing these experience design pieces are uniquely C2, the organization placed components of its events within other events.
The C2 Experience activated at InfoComm in Las Vegas and included, among engagements, "The Dark" sensory deprivation room where attendees discussed "industry blind spots" as a peer-to-peer networking exercise.
For the Audiovisual and Integrated Experience Association (AVIXA), organizer of InfoComm, C2 aligns well with its mission. David Labuskes, AVIXA ceo, said in the announcement "Both AVIXA and C2 are committed to helping professionals think differently about how they tackle business challenges in a rapidly-changing world."
In the rapidly-changing conference world, events within events are a win-win scenario.
---
Meetings as Customer Journeys
How the "Disney World effect" is influencing internal meetings.
If you've vacationed at Disney World lately, you know the experience begins long before you reach the entrance gate. Families can gather around the GPS-enabled app ahead of time to plot out their trips and make reservations after they have created their personalized avatars. What was once a funnel experience led primarily by the park is, today, a visitor-led journey from start to finish.
That "Disney effect"  is a driver for consumer event and for large-scale b-to-b event tech trends. These events are defining campus layouts and plotting consumer-centric touch points.
Event Marketer's EventTech show in Las Vegas capitalized on the open-campus concept, offering learning labs around the perimeter of an open footprint and exhibitors at the center. The format gives attendees free range to pop into a lab or take a quick meeting with a technology partner. Sessions run concurrently, but some are also repeated so attendees won't miss popular content.
Event apps are helping to live-wire these event journeys, delivering personalized content and recommendations using artificial intelligence.
SXSW's app this year pushed out capacity alerts that let attendees know how quickly popular sessions were filling up (as Disney's app offers ride wait times). The SXSW app also offered personalized recommendations based on registration information, networking contacts and a proprietary algorithm, among factors.
While this festivalization trend has been adopted for these external events, their strategies, designs, and technologies are now filtering down into sales and internal events. Business leaders recognize that their internal attendees expect the same types of experience design they encounter in their non-business lives.
Today, leadership and sales meetings are adopting campus footprints, organic networking spaces, fewer classrooms, and more mini theaters. In general, attendees want to pick and choose how they're informed and spend their time on-site rather than arriving to a one-way agenda set for all attendees.
Of course, a memorable journey can also be about the people you meet along the way. A looser framework paves the way for more interactions— happenstance and purposeful— that can change the game for a business unit or individual, alike.
As is the case in Disney theme parks, while visitors choose their own adventures, their stops along the way are well-staffed with engaging employees. It's why in events, every touchpoint should be supported with a human experience from helpful staff at registration or influential product experts in the exhibit center who keep attendees informed along their journeys. A thought out experience design can be a magical one.
---
Tech-Less Events
Marketers realize that technology has its place. Sometimes, no place at all.
It's a modern-age dilemma. Technology enhances many aspects of events, work, and life in general, but it can get in the way of face-to-face connections, it's often integrated "just because" and it can, in the case of entertainment, spoil the fun. It's why event organizers and attendees are adopting a tech-less mentality, a trend that is having its moment across industries.
Take Getaway, the tech-less answer to Airbnb that allows consumers (read: digital-weary millennials) to "escape" from Boston, New York or Washington, D.C., and into tiny houses installed in the woods where they can "go to recharge in nature, reconnect with people you love, and rekindle an interest in life unplanned."
Coffee shops, meccas for Wi-Fi seekers, are getting in on the trend, too. HotBlack Coffee in Toronto, for example, offers coffee and muffins-but no Wi-Fi. Its president told The New York Times, "We're a vehicle for human interaction, otherwise it's just a commodity."
The tech-less trend is protecting artists from social media spoilers and disconnected audiences. Comedian Dave Chappelle and musician John Mayer teamed up last year for the mashup show "Controlled Danger," where they banned smartphones via Yondr, a product that allows attendees to hang onto devices in a pouch they can only unlock from a kiosk outside the venue. During a tribute to his friend, the late Charlie Murphy, Chappelle reportedly said, "Let's make a memory only we get to have."
The workplace, a hotbed for meetings filled with laptops and phones in hand, is also being influenced by the tech-less trend. Researchers from Princeton and UCLA recently found that people who write notes rather than type notes, record and absorb information differently. In the case of written notes, they have a higher "conceptual understanding" of the information presented. The findings are influencing how content is presented, from the lecture hall to the conference room, to the conference session.
The tech-less trend is even spreading to events in the tech world itself. Like Snap Inc., which blocked, of all things, any Snapchat snaps coming from the Microsoft Theater at L.A. Live during Snap's own New Year's Eve extravaganza. The tech company banned smart devices altogether in the name of creating an "offline experience" where its guests could "live in the moment."
Across the event industry, clues of this shift have emerged with the analog trend that brought to events group coloring book zones and adult playgrounds. But going forward, we can expect to see the tech-less trend manifest itself in the mass adoption of "subtle" smart devices like watches, which are less obtrusive than a smartphone, and in more activities like walking meetings and offline networking in the great outdoors.
Because connection shouldn't always require a Wi-Fi signal.
---
Coffee Talk
The coffee renaissance brews in events with cafés and caffeinated engagements.
According to the National Coffee Association, coffee consumption is up, especially among younger consumers, a "reversal of four years of declines as gourmet brews gain in popularity." Furthermore, a recent "Money Matters" Survey Monkey survey report for investing app Acorn found that millennials have spent more money on coffee than on retirement savings.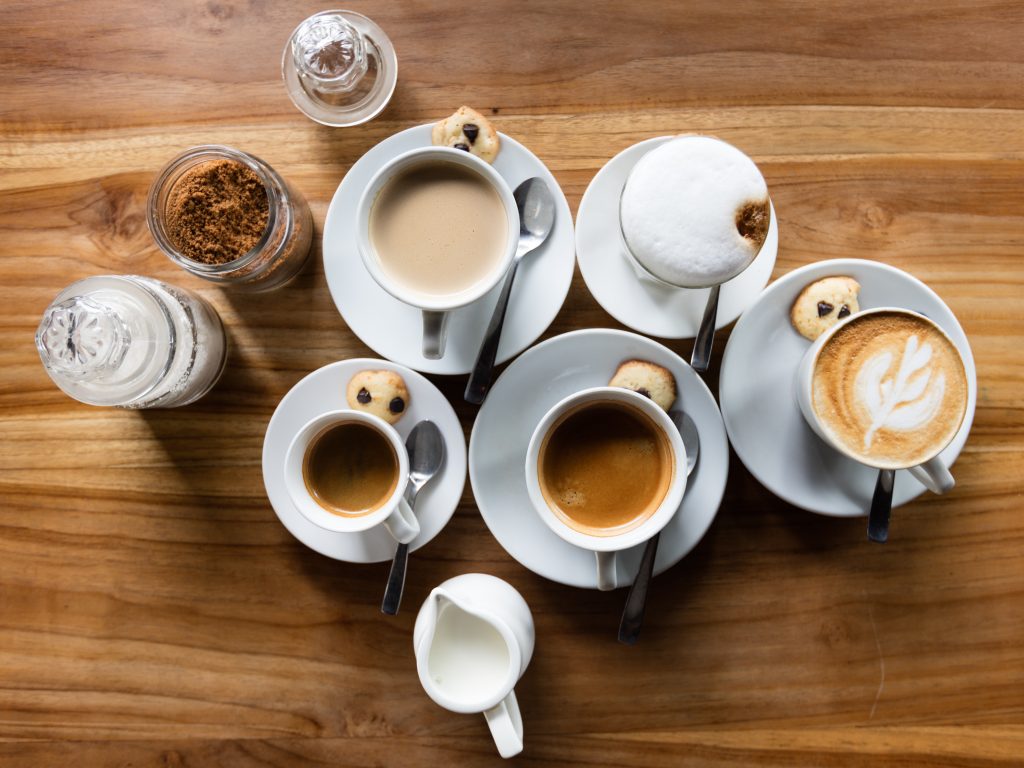 Behind this trend, more so than caffeine, is coffee culture. Coffee brings people together. It kick-starts days. There's an agricultural-based educational component to it, like there is with wine. Consumers are sampling blends and brews through coffee subscriptions. They're dabbling in coffee cocktails. They're upping their game with cold brew and coffee on tap. There's even a conference for coffee lovers.
CoffeeCon: The Consumer Coffee Festival, "the world's first roving 100% consumer coffee festival and coffee university" that features tasting, brewing gear and classes. We're thinking the art of selfie latte foam was covered.
For event marketers of coffee brands and beyond, coffee brings people together-especially free coffee. Coffee has long been an offering in trade show booths to draw in and keep visitors, but some exhibitors are taking it a step further.
At a Content Marketing World, NewsCred created a bustling coffee "shop" that served up local coffee product fresh on-site (with ornate drip stations), exchanging a hot cup for a scan of the visitors' badges.
NESCAFE targeted millennial coffee drinkers with the NESCAFE Coffee Taproom that eliminated lines and replaced baristas with self-serve, low-ley coffee taps. The event was set up like a speakeasy with a Sweet & Creamy product sachet serving as the "key" to get in. The understated space featured the taps, Wi-Fi, charging stations and sleek, modern seating.
When fueling your experience design, consider coffee as an event in and of itself, rather than a simple food and beverage add-on.
---
Pet-Friendly Events
The rise of pet-friendly hotels and events embraces man's best friend.
The Fairmont Copley Plaza Hotel in Boston isn't known only for its landmark designation and exceptional location. It's also known for Carly Copley, the hotel's canine ambassador, who lives at the hotel and accompanies guests on walks and runs through the city, greets them, visits during meeting breaks (upon request) and serves as a "community liaison" by participating neighborhood and charitable events. There's something about creature comforts when we're away from home that hotels like The Fairmont-and modern office spaces-have come to recognize and embrace.
As more and more hotels and offices have opened their doors to dogs and folded pet-friendly amenities into their offerings, it was inevitable that events would be next.
Pets made their way onto the floor at the New York International Auto Show this year as Nissan, looking to demonstrate the versatility of its Rogue, brought in puppies to help highlight a special one-off concept vehicle called Rogue Dogue featuring built-in food and water dishes, harness clips and a 360-degree dog washing station. Over the last few years, the consumer activation space has embraced dog-friendly activations, from mobile sampling for dogs to doggy festivals.
The Experiential Marketing Summit introduces a Doggy Decompression Zone in this year's exhibit hall where attendees can take five with Fido.
Beth Stultz, vp-marketing and operations for Pet Sitters International, made the case that meeting professionals should explore and set policies for pet-friendly events to "capitalize on our love affair with pets, to put on innovative events and create event promotions to appeal to a larger audience."
Among her suggestions: having professional pet-sitters on-site for walks or setting up a "dog park" for meetups, creating a communications plan based on the event venue's policies and getting creative with your event souvenirs-like ditching the branded coffee mugs in favor of branded pet bag dispensers.
Woof.
---
Playification
How marketers recall the joys of childhood play.
We know play is important for kids and their development. But research is pointing to the importance of play among adults to lower stress levels and boost creativity.
The idea of play time has manifested itself in adult coloring books that have flooded the market. There's even a preschool for adults in Brooklyn, NY, that offers arts and crafts and other activities.
As the "analog" and throwback trends persist, more events are incorporating "play" into their agendas as a networking device and to create an escape.
And speaking of "escape," one of the more popular adult play tactics happens to be escape rooms, the wildly popular, experiential games that involve a locked room wherein attendees have to work together to solve clues to escape.
Amazon Web Services' (AWS) re:Invent conference in Las Vegas has an entire footprint devoted to play (and "Play" was listed front and center on the event website). This year the event offered broomball games, and at the re:Play after-hours event: bubble soccer and dodgeball, rock climbing, video games, and a giant ball pit filled with 140,000 balls. C2 Montreal's outdoor plaza space featured a Ferris wheel that doubled as a networking zone.
Play has enhanced photo activations, as well, like tiny rooms that have attendees cramming themselves into the space and posing on tiny furniture. Other playful sets include "flipped over rooms" that allow attendees to pretend as though they're suspended from the ceiling or flying through the air, as Fujifilm incorporated into its Fujifilm Wonderland event in May to promote its Instax instant photo cameras.
Who knew playtime could be strategic?
---
Biometrical Art
Art with a heartbeat humanizes creative experience design.
The experiential art world is opening up, with the physical and digital worlds coming together in immersive and creative ways that are taking engagement to new depths. Interactions are, in turn, becoming more customized and personalized, too. For marketers, the result is an experience design and data-driven work of art.
Take Infiniti's recent activation at Pebble Beach Automotive Week that through armband devices and other feedback, measured attendees' emotions as they viewed an Infiniti on display and then transformed those "feelings" into digital artwork on LED screens. And there was "Feel the Beat," a UAE Ministry of Health campaign that encouraged consumers to get their heart monitored, and then set the sound of their heartbeats to music-turning each individual heartbeat into a custom track for each person.
At the first-ever Lions Innovation Festival, MEC's EmotiCannes live art installation consisted of a "zoomorphic" sculpture of small screens that collected social media activity of the 10,000-plus festival attendees, analyzed it, and revealed them in real-time as "meaningful insights into the prevailing mood" of the crowd, changing colors and shifting its shape.
Who can forget Stella Artois' "Reach for the Stars" influencer experience, where in a darkened room lit by "stars" hung from the ceiling, attendees could reach up and the glowing orbs would suddenly descend toward them-as if they were alive. Or, the bio-responsive plants in a pop-up forest in London's Soho district that unfurled like a human interaction as people walked through it.
And then there was Hyper Thread's hammocks at The Lab at Panorama Festival in New York City with embedded sensors that detected your swings, with your actions modifying parts of songs that cycled through the experience. There are cool tools in the space worth keeping in the experiential playbook, too, including Crafted by My Heart, a ring designed from the wearer's heartbeat, that puts a personalized touch on premiums. And Emotive, which activated at Adobe MAX, detects your brain activity while being creative and generates a visualization unique to you.
Beyond engagement, heart monitoring and sensors let marketers collect rich data about the feelings and decision-making processes of attendees-insights that can reveal unbiased opinions on your brand.
Festivalization
Festivalization is transforming how we build events.
They're the hallmark of large-scale music festivals, with themes like community, creativity, food, fashion, tap and share, and they're infiltrating business events, reinvigorating attendee bases and attracting millennial prospects who prefer experiences, touch points and connections at events.
It's not just about music. Festivals have gotten it right with their seamless registration and entry mechanisms and people management, their social media amplification strategies, and with communications and branding that binds fans together.
In the b-to-b event world, meetings that were once ballroom-based have moved into hip venues, have incorporated the outdoors, have a choose-your-own-adventure kind of schedule, entertainment and thoughtful food and beverage.
Google I/O famously transformed its developer's conference this past year, moving it from inside Moscone convention center to outside at a 10-acre amphitheater property, where the event took on a "Burning Man" vibe with creative structures, tents, bubbles, food and beer trucks and more. The PCMA's annual conference last year added a meetup-friendly "Global Coffee House" with an "open mic" for delivering content. Creative zones with "thinking putty" completed the vision. On the b-to-c side, Subaru recently elevated its longstanding WinterFest mountain-side hospitality program to engage skiers and snowboarders by adding chalet-style builds, observation decks and a performance stage for local talent.
Expect more annual meetings and shows to market themselves as "festivals," and expect those meetings and shows to incorporate more moments for community, like co-created artwork, inspiring food offerings, happy hours with purpose. Festivalization is about a movement and many, many, of your event attendees that are influenced by it. According to a recent Billboard study, 32 million people went to at least one music festival in the U.S. in 2016-a figure that is expected to rise.