It's an exciting time in healthcare marketing.
The healthcare industry is evolving more rapidly than ever before. Policy changes, industry innovation, and the evolution of information and technology—all propelled by a swelling wave of millennial momentum—are ushering in a new era of healthcare.
Combine that with a new age of experiential marketing and events, and it's enough to make any healthcare marketer feel like they're standing on quicksand.
As the priorities and tendencies of both patients and healthcare professionals transform, the need for brands to engage with their audiences in a meaningful way is vital to achieving success in a shifting industry landscape. To better understand these changes and how to navigate them, let's take a look at five major contributing factors.
1. Policy Changes: Outcome-Based Healthcare
Many within the industry have dubbed 2016 the "Year of the Patient". Policy changes have emphasized a more patient-centric approach to healthcare, and the industry focus is shifting from disease and symptom management to overall health management.
Outcome-based healthcare has become a more active part of industry economics than ever before, and this shift in mindset is changing how we look that the entire patient—not just the disease. Point-of-care treatment and testing, telemedicine, patient experience and affordability are also becoming major areas of focus and change. Patients are altering their approach to when, how, and even why they receive treatment, which is contributing to a major shift in business models throughout the healthcare industry.
2. The Rise of Precision and Preventative Medicine
We are seeing an overall shift in the healthcare industry from a traditionally Western, treatment-based approach to medicine towards a more prescriptive and preventative one. A greater focus on individual genetic makeup, wellness, early detection, screening, vaccinations, diet and exercise—and even mental health awareness and treatment—are all indicative of an increasingly holistic approach to healthcare.
In January of 2015, President Obama announced the Precision Medicine Initiative (PMI) in his State of the Union address. Precision medicine is an emerging approach for disease treatment and prevention that takes into account individual variability in genes, environment, and lifestyle for each person.
The PMI is a major breakthrough in improving individual health and approach to disease treatment and prevention. It shines a bright light on the shifting priorities and approach to treatment in the healthcare industry. Through advances in research and technology that empower patients, the PMI will enable a new era of medicine in which researchers, providers and patients work together to develop individualized care.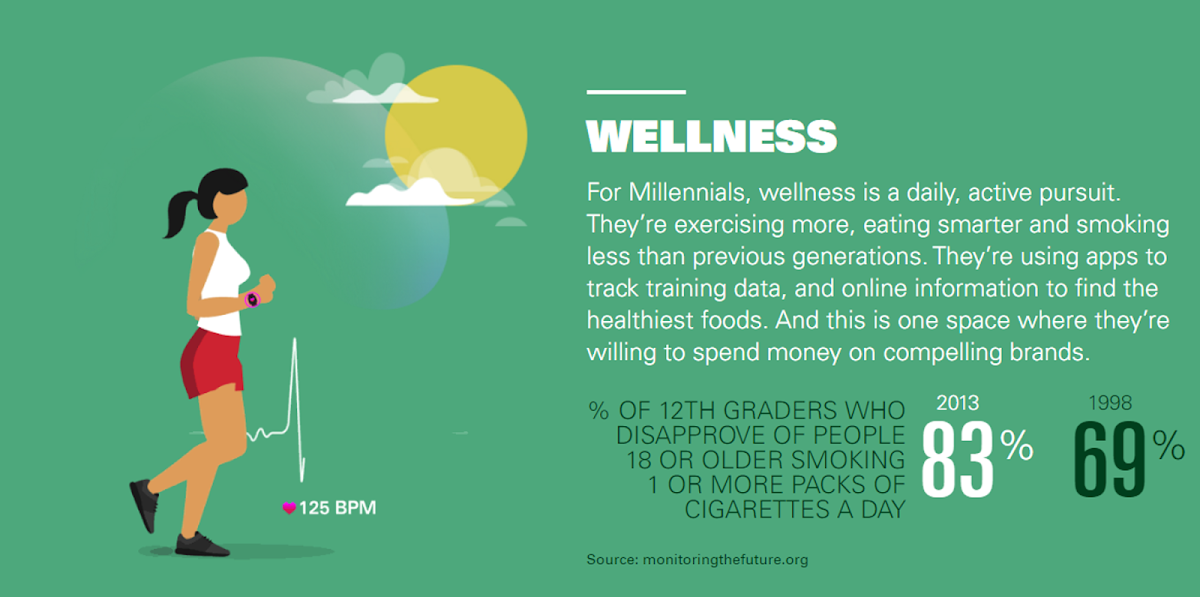 Millennials are huge drivers of the preventative and holistic healthcare movement as well. They are more wellness-conscious than any generation before them—exercising, eating healthy and tracking their health. According to a Goldman Sachs study titled Millennials: Coming of Age, "wellness is a daily, active pursuit" for millennials.
"They're exercising more, eating smarter and smoking less than previous generations. They're using apps to track training data, and online information to find the healthiest foods. And this is one space where they're willing to spend money on compelling brands."
This approach has begun to influence the non-millennial audience as well, and audiences are starting to assess healthcare brands using a different set of values and criteria than ever before.
The impact of the technology-driven, big data, uber-information era we now live in is certainly not unique to healthcare, but its effect on treatment, operations and patient-doctor interaction within the industry are outstanding.
The effects on how a patient approaches their health and treatment programs are particularly transformational. We've entered an era of self-empowerment, self-efficacy, and self-advocacy amongst patients. Patients' experiences in a doctor's office or hospital—and with medicine or consumer products—can be extremely influential. Just as outlets like Yelp can enable consumers to make the right choice, the same can be said now in healthcare. Convenience and accessibility are expected, and patients want their providers to be informed and have their voice heard.
Physicians are more empowered to act like consumers as well, with a level of accessibility and information like never before. Physicians now have access to resources and patient information instantly, yielding a much greater level of collaboration and speed-to-treatment than ever before.
4. Shifting Business Models
Clearly, all of these elements are contributing to shifting business models and new industry challenges to navigate. Outcome-based, patient-centric policy changes have also come along with ongoing regulatory pressures and reimbursement cuts, resulting in the need for hospitals and big labs to adopt a more streamlined, scalable approach to their workflow.
The shift from disease and symptom management to a more holistic, preventative approach is creating staffing challenges for both organizations and healthcare professionals. More and more, hospitals and laboratories are being forced to employ more diverse, well-rounded personnel in favor of highly specialized and focused professionals. Additionally, patients are living longer, and are stretching their budgets and treatment approaches across a longer period of time.
For healthcare marketers and salespeople, business models are shifting as well. With policy changes, technological innovation, and a powerful millennial influence driving behavioral changes in patients and healthcare professionals, we need to recognize that these audiences are also changing from a marketing standpoint.
Audiences are now highly informed, digital-native, multi-screen and multi-platform, and are no longer bound by the boundaries of geography and location. Engaging audiences with meaningful content across all of these touch points, live and digitally—or both simultaneously—is essential to brand success in today's era of marketing.
5. The Evolution of Healthcare Marketing
One thing is for certain—marketers are now more accountable for revenue than ever before, and the ability to drive engagement is essential. We are seeing this trend across industries with many of our clients, and healthcare is no different.
Changing business models, policy changes and technological innovation— bolstered by a wave of coming-of-age millennials taking a self-actualized approach to healthcare—are all influencing a dynamic shift in the way brands need to approach their audiences. No longer is simply guiding a buyer through the sales funnel, and intermittently managing that relationship acceptable.
Consumers now have the control, the awareness and the tools to influence their own decisions more than ever before. In today's marketing landscape, it is essential for brands to provide their consumers with memorable experiences that inform, delight, and foster an emotional connection—especially within an industry as emotionally-driven as healthcare.
By developing experiences that connect brands with the audiences most vital to their success, brands can foster greater interaction with more engaged audiences, yielding more meaningful results. As the landscape of the healthcare industry changes, so does the landscape of marketing as a whole—the Relationship Era of Marketing is headed into the sunset, and is giving rise to what has been dubbed the Experience Era of Marketing.
Can we help? Check out our Healthcare Marketing Capabilities.