Let's play out a scenario:
You're taking the stage to give an important presentation. After a lot of hard work, you're confident, sharp, and passionate about what you have to say. You look out into your audience and what do you see? Instead of eager faces, it's a sea of slightly bowed heads, inclined to the glow of the omnipresent smartphone.
What's a presenter to do? How can you solve the problem of constant multitasking and make sure that your audience is in the moment with you, engaging with your message?
All Screens Welcome
The answer is not ban phones at your events or meetings. Instead, turn those second screens to your advantage.
Second screen experiences have been around since we've had second screens – think back to when competition shows like American Idol first started encouraging people to text in their votes. Now, second screen technology exists in the form of different apps for our smartphones and tablets. Your average event app helps attendees plan their experience, get information, and navigate their way around the event, but most aren't taking it to this next, more interactive level. Interactive second screen apps can allow the audience at a presentation to participate in:
Polling and surveys
Quizzes and games
Real-time chat with other attendees
Note-taking
Slide syncing
Virtual Q & A
This way, your audience can make their voices heard, and you can curb their natural tendency to become distracted or bored.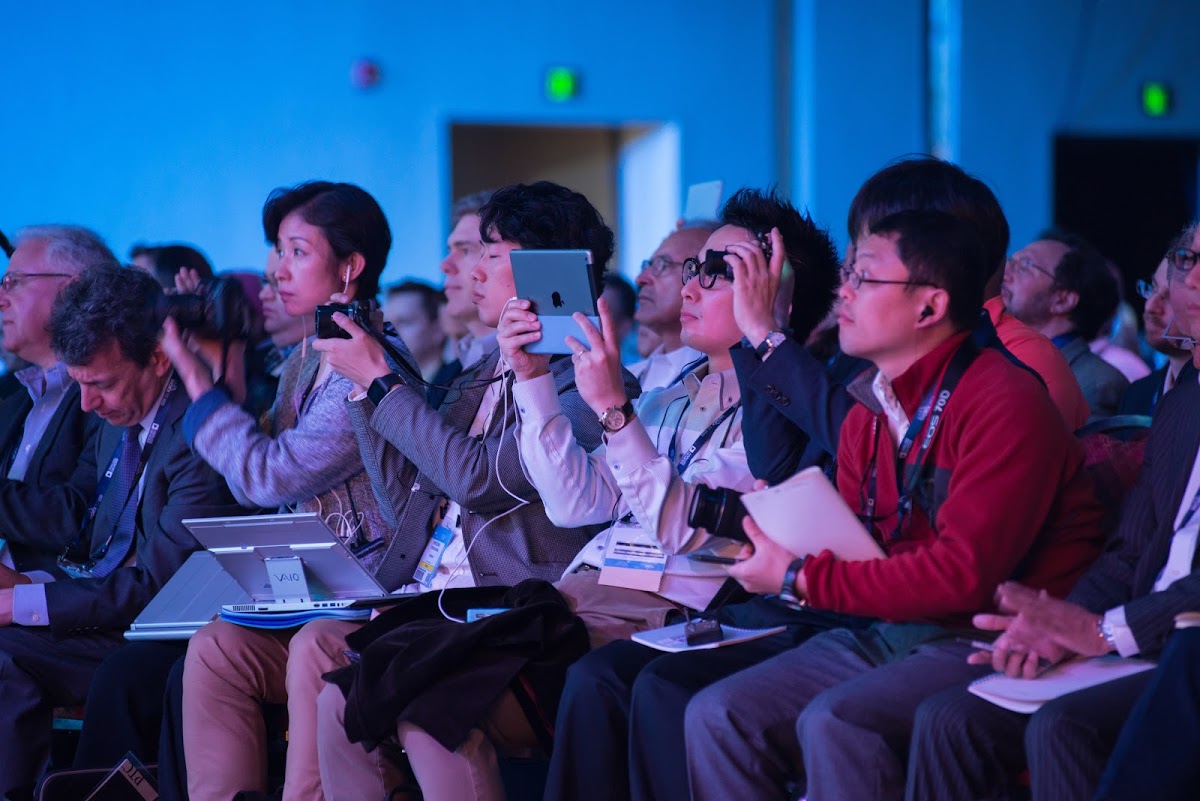 Examples of event apps that encourage second screen audience engagement include SpotMe, Conferences i/o, and Lintelus. All provide opportunities to send your attendees supplementary content and allow them to respond in real time. Smartphones become not a source of distraction, but a tool for providing your audience with a deeper, more engaging experience.
Our Experience With Cramer Clients
We recently put second screens into use on a project with a leading global healthcare technology company. They needed to stand out from the crowd and engage potential customers during presentations. Together, we turned what was once a run-of-the-mill software demo into a fully interactive, immersive brand experience.
Upon entering the room, each prospective customer – physicians or hospital administrators – receives their own personal iPad. The iPads are synced with the display screen. As a live salesperson gives the presentation, the big screen video tells the story of a patient, and the iPads illustrate how the software fits into that patient's journey. By using multiple screens to their full potential, we're able to hold audience members' attention and tell a complete, multi-layered brand story.
Once upon a time, a presentation meant a single screen with simple PowerPoint slides. Now, presenters can use technology both on the stage and in the audience's hands to communicate and interact more intuitively. The time has come to fully embrace the second screen.
Sign up for our newsletter, Catalyst, to read the full case study, which will publish soon!