Many investments go into every event: the venue, the platform, the production, and the time your team spends building the experience. By increasing complexity in a hybrid event, you ultimately increase your investment in the program. However, no investment is more valuable than the content you share.
Content is how you earn your audience's attention and engagement. You must consider your event not as a moment in time but as a pillar in the continuing conversation you need to have with your audience. To maximize the value of your hybrid event or any event, you must extend the ROI by keeping your event's content useful over time.
Here are 5 suggestions to make your content investment go further:
Amortize
First, you want to plan a timeline for how your content will be rolled out. Do you have a strategic plan on how to make sure people will continue talking about your hybrid event 6 or 12 months down the line? Make sure to ask the questions of:
WHO: Who is your audience target?
WHAT: What are your key messages and topics that resonate with them?
WHERE: Where is your audience consuming information? Where do you need to build touchpoints?
HOW: How will you share the content? What format will that take?
Pro Tips: First, work with your sales team to understand the content that will best fit their post-event outreach plan. Second, contract with keynote speakers to include pre-event and post-event promotions, as well as social media mentions.
Atomize
Look at your content and decide how you can split it up. How can you share the same information in different formats? Use the event content as your "hero asset" and repurpose the information in quote graphics, podcasts, blog posts, quick video snippets, or any other media format to simplify topics and share them in digestible pieces. Make sure your content is fit for the channels you targeted in your amortization strategy. This will keep the discussion going and give your followers a second chance to see and understand your content. During this process, make sure to release content that can stand alone, and brand your work so you always get the credit you deserve.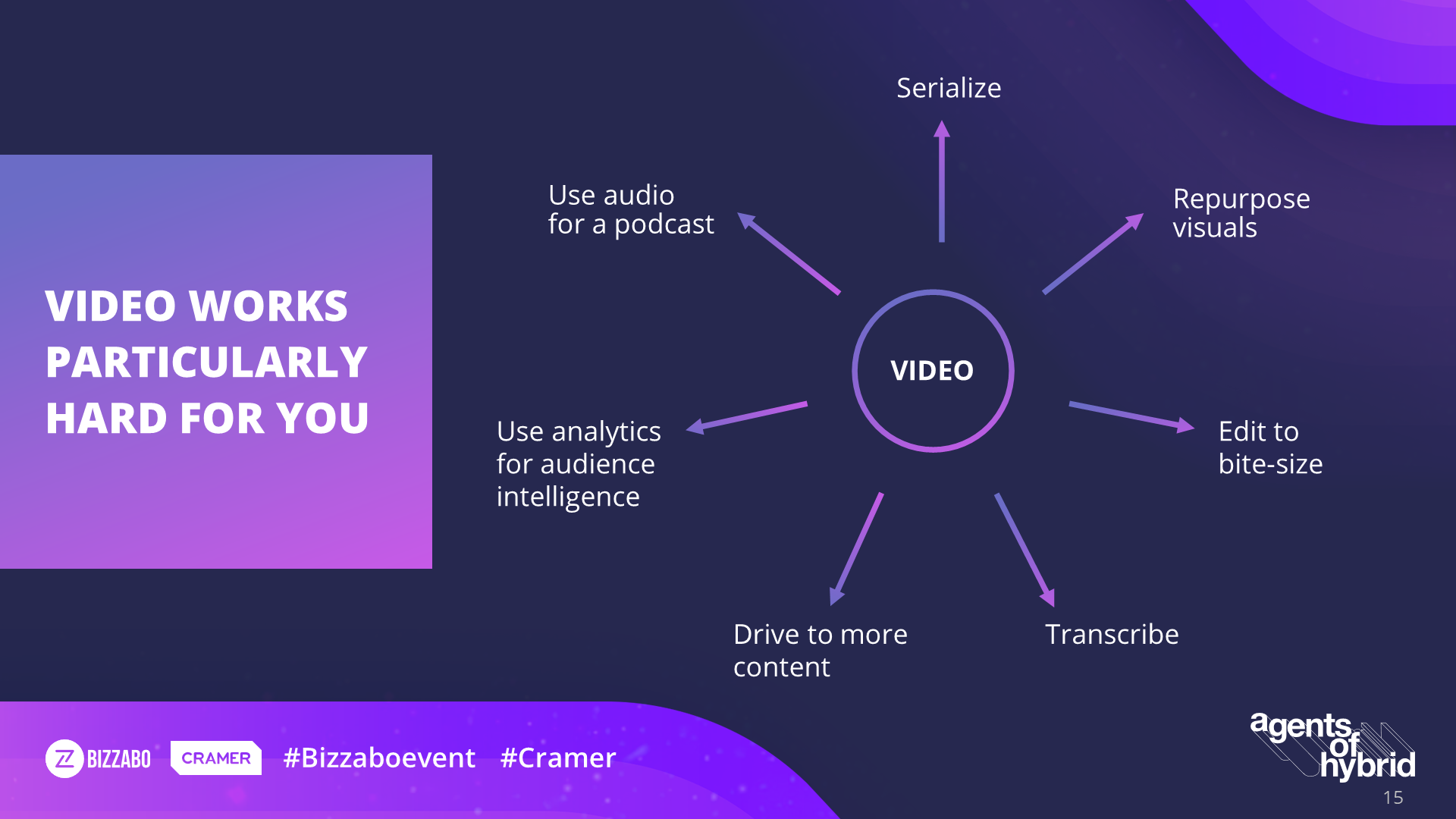 Pro Tips: First, when building your content, plan to add chapters to your presentations that will easily stand on their own. Second, virtual or streamed video content is easier to split up. Video can easily be transcribed for an article or edited to bite-sized clips for social media, and you can even use the audio-only for a podcast.
Aggregate
The opposite of atomization, this creates a one-stop shop to help consumers find everything they are looking for at once. Aggregation helps give an overview of everything from an event to ensure that the audience members get all the information they need. It also helps share the content from the event with people that may not have been able to attend. Aggregate all your key messages into a case study, an eBook, or even a "yearbook" that goes over events and insights from the past year.
Pro tip: Gate this downloadable piece of content on your site and help drive leads and identify new contacts.
Congregate
Leverage your platform or create a unique site for all audience members to come together and discuss the topics of the event. This is more than just an on-demand depository. Create a community that engages with and challenges each other, letting discussions of the event's topics continue post-production. Establishing this community during the event sparks excitement and gives attendees a chance to consider what they might want to discuss with others.
Pro tip: First, publicize the ongoing community during the event and make it easy to engage. Second, create reasons for your audience to want to reengage. Can you create a new piece of content to share on this landing site? A 'lessons learned' follow-up webinar?
Collaborate
Invite the community to interact with your content. You can simply start with polls on social media, and you can drive the discussion to your congregation platform to further collaborate. Send a follow-up survey and publish the results. Start asking questions and responding to the ideas of others on the congregation webpage. This virtual collaboration creates an opportunity for in-person regroups to discuss the concepts that have been shared on the platform, and to build real relationships with your most engaged audience members.
Pro tip: Track the questions being asked at the event and post-event to inform your overall editorial calendar and answer the most relevant questions throughout the following months after the event.
To truly maximize your return on investment in a hybrid event, you must make the content meaningful and create an opportunity for these ideas to be shared and discussed post-event. Amortize, atomize, aggregate, congregate, and collaborate, but most importantly, prioritize your attendees and the user experience. If an event fails in driving conversation and connecting people, it will be difficult to have people return to stay engaged. Master your content, then establish a complete process for all attendees, both in-person and virtual, to exchange thought leadership.