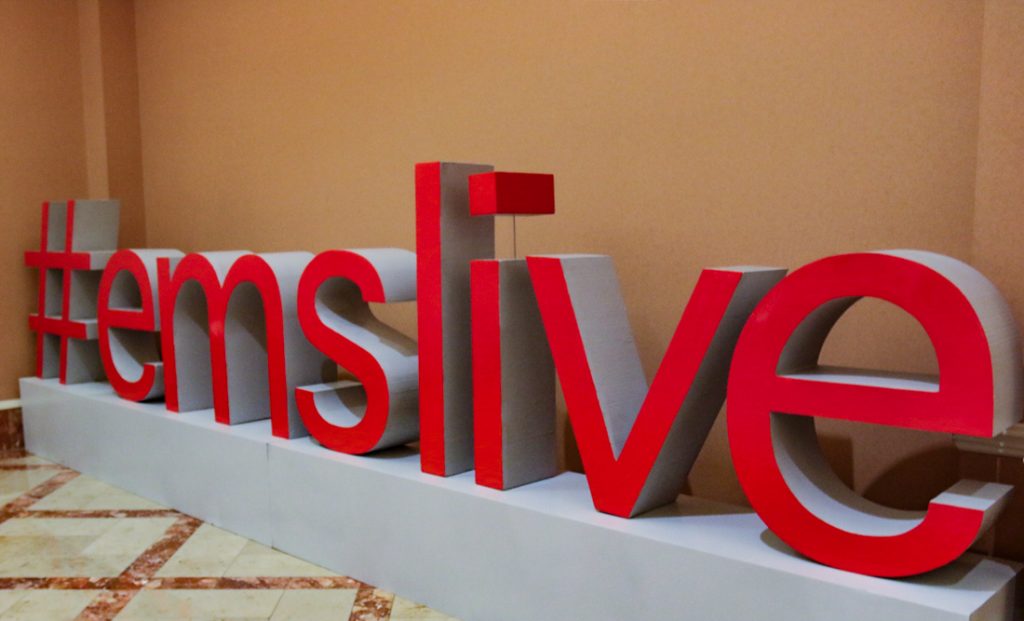 The Experiential Marketing Summit 2019, the three-day conference for event industry professionals, concluded in Las Vegas this past week. Nearly 2,000 attendees on both brand and agency sides came to inspire, connect, and learn about the state of the industry.
Keynotes of Note
Presenters are often those behind both the biggest and boldest events for the trade and consumers. Highlights from the agenda include keynotes from Monique Harrison of Mercedes-Benz who has been shaking up the brand's longstanding approach of tennis and golf activations by expanding its experiential marketing to wider audiences to enhance the life cycle of the customer. She emphasized the importance of being bold in our marketing ideas by ignoring the noises in our heads and trusting our guts more on risks with big payoffs based on her enjoyment of the book Exponential Living.
Attendees had the option to visit the Zappos campus before the conference to focus the lessons of customer service at the launch of the program. Tyler Williams of Zappos has been pushing inclusivity with creative solutions. Zappos partnered with Not Impossible Labs to create body harnesses that vibrated to music and invited 200, half of whom wore the devices for their hearing impairment to the Life Is Beautiful music and arts festival. And Zappos also has been tackling ways to help skateboarders who have lost their sight to keep skating.
The summit concluded with cheers, literally. Ryan Mortimer, head of experiential at Anheuser-Busch shared samples as he described Michelob Ultra's successful growth.
5 Themes Woven Throughout the 2019 EMS Summit
1) New Technology makes experiences more relevant.
The Event Tech conference merged with EMS this year for the first time. Which fits our Event Tech obsession just fine. In order for brands to reach their audiences in a cluttered landscape, they must compete for attention by delivering more personalized and relevant content. The buzz about AI, chatbots, and wearable beacons dominated the conversations showcasing the latest applications at events like SXSW and Cisco Live.
2) Consumerization of B2B continues to build momentum
Event Marketer released results from its most recent study pointing to the very real trend of B2B events assuming consumer traits. Michael Hughes, head of data & insights for Event Marketer and Marc Herron of Sparks presented their never-shared-before study.
Event Marketer's and Sparks' presentation showed that attendees at B2B events are seeking change faster than brands are identifying the needs. High profile consumer and festivals are pushing every meeting to be more of an experience.
The study shows attendee needs and brand priorities do not yet align. Attendees are requesting nontraditional venues, more customized registration options, and better uses of event mobile apps and text messaging at a higher rate than brands are prioritizing them.
Attendees are willing to pay a premium price for enhanced food and beverage experiences, too, as well as customized tours showcasing a destination to blur the lines more between work and vacation. Event Marketer business director Jeff Fortmann appeared with trays of chocolate and vanilla cake pops for every audience member to enjoy pushing the point home about connecting with people through their stomachs.
3) Inclusion initiatives of every scale
In addition to Tyler William's examples of how Zappos has been focusing on more inclusive events serving the hearing and visually impaired, Kati Quigley of Microsoft also presented on ways her company approaches diversity and inclusion baked into their corporate culture. There are programs she shared around neurodiversity, for example, recognizing their number of employees on the Autism spectrum.
A panel followed with Kati of Microsoft, Lori Ann Pope of Facebook, and Shenique Coston of Empire State Development sharing their companies' best practices and programs for all companies to keep doing better.
Event Marketer is committed to facilitating the conversation around diversity and inclusion for the industry by hosting more panels on this topic.
The Women and Events focused panels and Braindates were well attended, peaking with a discussion hosted by Mosaic featuring leading executives from SAP, Twitter, Under Armour, ABC, Cisco. The Women and Events track concluded with a Wine & Learn featuring comic and best-selling author Christine Cashen.
4) Serving "Whole Attendees" where they are
Both B2B and B2C are ultimately B2H (business to human), and several brands like Cisco and Amex have been folding each objective into their recent events. Casey O'Looney, senior manager of global marketing at Cisco spoke of the importance of personalization to drive loyalty and engagement discussing her omnichannel approach to customizing the content and experience for Cisco Live attendees, customizing the entire journey to each individual.
Tracey Shechtman, vice president of global experiential marketing for American Express and Nicole Kaplan, senior vice president of group director business leadership at Momentum Worldwide, spoke of a human-centric activation at this year's CES. American Express offered a comfort lounge addressing the practical needs of consumers at a very demanding show: a lounge with cookies and chargers to rest as well as useful services from headshots to sneaker detailing. (Shoe-shining is so over.)
Alaine Newland of GitHub led a white paper discussion on the human-centric design framework in the exhibit hall to talk through ways marketers can incorporate an empathic approach to event design.
5) More circles, not rows
Event planners recognize the need to facilitate real networking and find hi-tech paths to keep move beyond the generic cocktail hour.
Event Marketer incorporated the Braindates platform to help focus more thoughtful, targeted networking around shared topics of interest. Attendees could join or start small group discussions around any industry theme and find others with the curiosity or expertise on the topic.
These forty-five-minute discussions were both inside the exhibit hall as well as poolside at the hotel's cabana pool. And they always ran over their allotted time due to the lively discussion and authentic connections created.
They were a well-attended success reminding an entire industry focused on surprise and delight that the simplicity of thoughtful, engaged, alliance-forming conversation may still be an event's biggest power.
Next year's Experiential Marketer Summit will be in Chicago. See you there!