What does the booming experience economy have in common with ever growing trends in environmentalism? Both rely on an audience's willingness (1) to participate, and (2) to connect.
Participation and connection are the cornerstones of successful experiences and impactful environmental movements alike. A passionate environmentalist is likely born from having had transformational experiences in the outdoors, and thus feels an innate desire to protect those wild, natural places so closely tied to their identity.
That bridge between participation and connection is exactly what experiential marketing aims to deliver by way of brand experiences for meetings and events, festivals, trade show activations, and/or pop-up experiences. Now, experiential marketers are designing technology-driven experiences that make participating in and connecting with the environment itself, much more accessible.
The following are 3 examples of experiential marketing technologies utilized for environmental stewardship.
A Trash Cleaning Robot Controlled By You
This successfully crowdfunded Kickstarter project turns cleaning up trash from Chicago river ways into a game.
Created by environmental organization, Urban Rivers, the Trash Robot is an interactive and immersive web browser experience, allowing participants to collect trash from the water. The team's initial project was installing large floating gardens in the river, however they found the gardens would quickly become plagued by trash.
After attempting to clean up the water ways by kayak and hand each day, the team developed a more innovative and entertaining solution, gamified it, and expanded the experience for others.
A Massive 360-VR Film Experience Made In The Name Of Conservation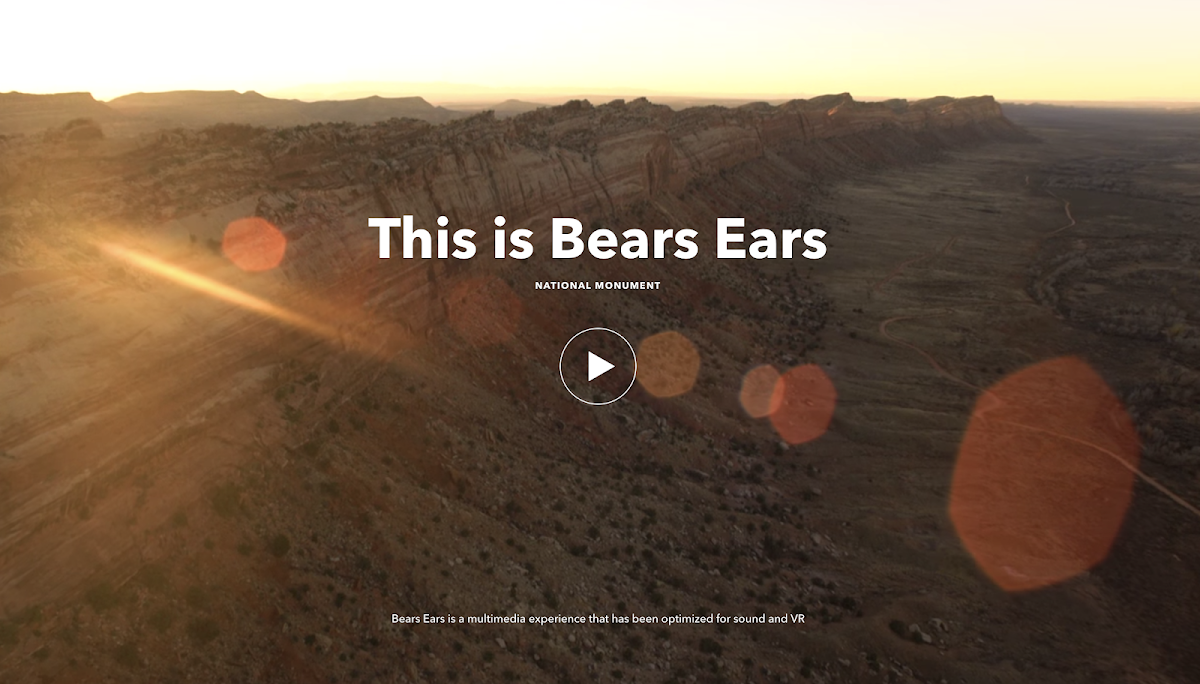 Patagonia and Google teamed up for a virtual reality film series entitled, This Is Bears Ears, as an effort to bring awareness to and protect a threatened national monument.
The protection of Bears Ears and Grand Staircase-Escalante National Monuments has been a hotly contested topic this past year, but no matter which side of the fence you're on, there's no denying the beauty of this immersive video series. It's goal is simply to let you see Bears Ears for yourself.
The majority of the U.S. population will never visit or explore this region, and so utilizing 360-degree video and virtual reality viewing technology to bring the sights and stories of the lands and its native people to life is nothing short of powerful. The website invites viewers to learn about the history and culture of Bears Ears, check out the cave drawings and natural ruins, and experience what it's like to climb, ride, or backpack through the place.
In the end, if the films can provide a feeling of connection and understanding through virtual participation, then it's a win for conservationists.
A Popular App Rewards Gamers For Collecting Garbage
Pokemon Go has long since passed its viral phenomenon days when you're talking technology timelines, but the popular augmented reality gaming app still has the power to activate massive audiences worldwide. This Earth Day, Pokemon Go did just that.
Teaming up with Mission Blue, Playmob, and local NGO's, Niantic (Pokemon Go parent company) engaged it's users with a worldwide trash pick up initiative. They successfully gamified a 48-hour cleanup window, offering Trainers and community members exclusive unlocks and in-game rewards for taking action.
Thousands participated in countries across the globe, helping keep the oceans and our planet clean for all the wild Pokemon out there.
The Potential of Experiential Technologies
Immersive media, brand experiences, on-site or online activations, all of these experiential marketing mediums hold tremendous potential for not just building brand loyalty and making messages stick, but for actually influencing cultural consciousness.
These examples explore just a few ways that experiential marketing and its technologies can be used to promote environmental awareness, sustainable practices, and conservation initiatives. There will be many more.
We're still as an industry experimenting with these fringe technologies and seeing how far we can push the boundaries in our marketing ecosystems, but the power of this tech has yet to be fully realized.